Tulip Vision Line dt 5/120 (upgraded)
Background Story
The company that provided (and actually still provides) business IT solutions for my dads business back in the 90s used to sell hardware by Dutch manufacturer Tulip back then. (Tulip went out of business about 15 years ago.)
Some time around 1994 my dad received a complete system from them to use at home, which was a Tulip Impression Compact, equipped with a 486-DX2 66 MHz and running Windows 3.11. This was the first PC we had in our home and later (when my parents bought a P166MMX-based laptop) became the first PC that my brother and I could call our own. This system was, in terms of form factor and looks, very similar to the Vision Line dt that I'm going to show in this thread. Some years later – my brother and I were already sharing a P2-400 with TNT graphics, a Vision Line dt was decommissioned at my fathers business so I could have it. Although it was already outdated in terms of hardware, and never meant to play games on in the first place, it was still good for web browsing and other lightweight tasks.
When we finally got broadband internet connection, I transformed the Vision Line into a home router using the lightweight fli4l linux distribution. By underclocking and undervolting the CPU (passively cooled) and removing the HDD (fli4l would boot from a single floppy disk), I was able to make it absolutely silent. It was running rock stable, reaching uptimes of >1 year, and served its purpose very well for 3 or 4 years. When it was replaced by a wireless home router, it went into storage and was probably taken to the scrapper by my parents some time later.
So for the last two or three years, I have been trying to find one – for entirely nostalgic reasons. A few weeks ago I finally found an ad, someone wanted to get rid of 5 or 6 old PCs. First they did not want to sell the Tulip separately and wanted local pickup only. But I started a friendly conversation, telling my story, and could convince them to ship only the Tulip. It cost me 40€, shipping included. It needed a good cleaning on the outside, but was pretty neat and clean on the inside.
Different Mainboard Models
The Vision Line dt came with at least two different mainboard models, both Socket 7. The earlier TC48 used the Intel 430VX chipset while the later TC76 uses the 430TX.
Of the TC48 there are at least two different variants, one does support split voltage (MMX) processors, the other one doesn't, because it is not fully populated with the required components.
Only a few days after receiving my unit, that was equipped with the TC48 in the non-split-voltage version, I found a TC76 on eBay and got it for 15€ shipped.
TC48 Specs
Socket 7
Intel 430VX chipset
MMX- and Non-MMX models available
4 RAM Slots (72-pin EDO RAM SIMM)
Alliance Semiconductor AT24 onboard graphics, 1MB RAM, proprietary upgrade module
AMD PCNet 10MBit Ethernet onboard
Probably models with onboard sound available (solder spots on the PCB are there)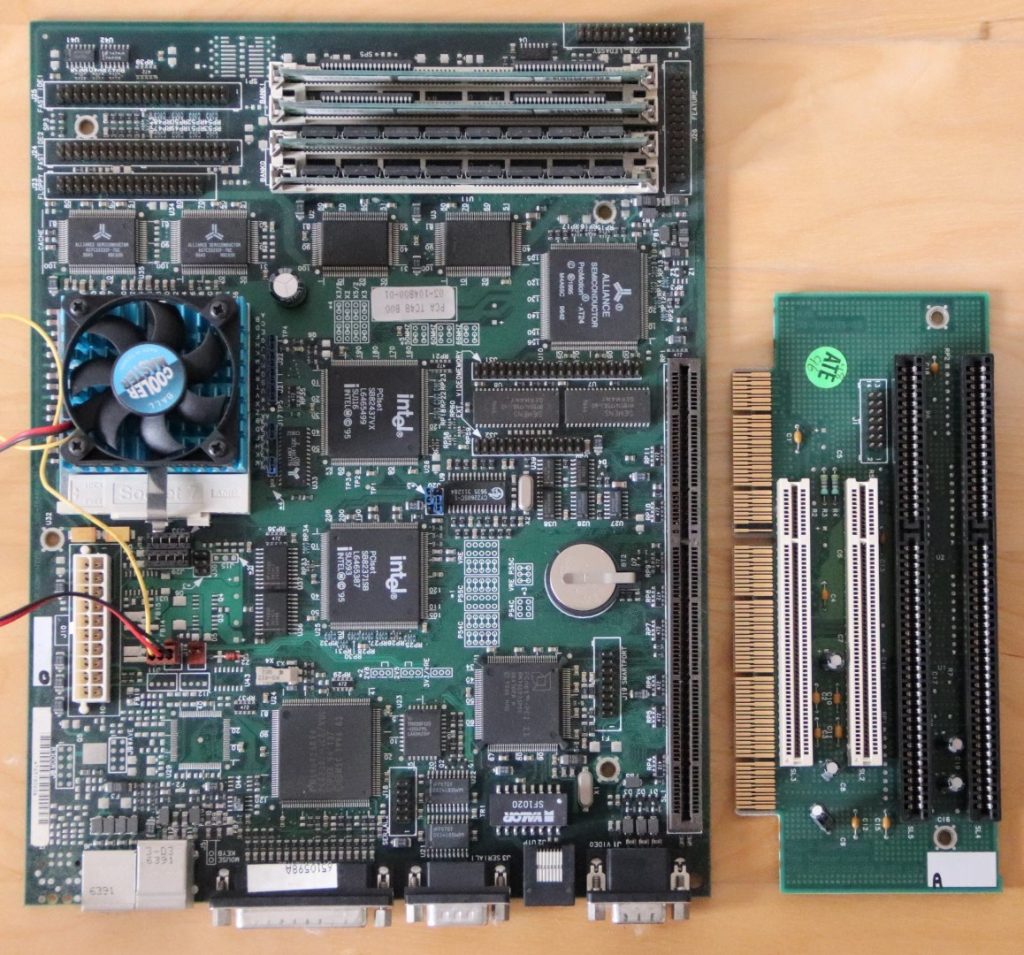 TC76 specs
Socket 7
Intel 430TX chipset
MMX-capable
2 RAM Slots (168-pin SDRAM DIMM)
S3 Virge/GX onboard graphics, 2MB RAM, upgradable with 2MB SGRAM SO-DIMM module
DEC 21143 100MBit Ethernet onboard
Creative Soundblaster Vibra 16X onboard
supports booting from CD-ROM, which is definitely a plus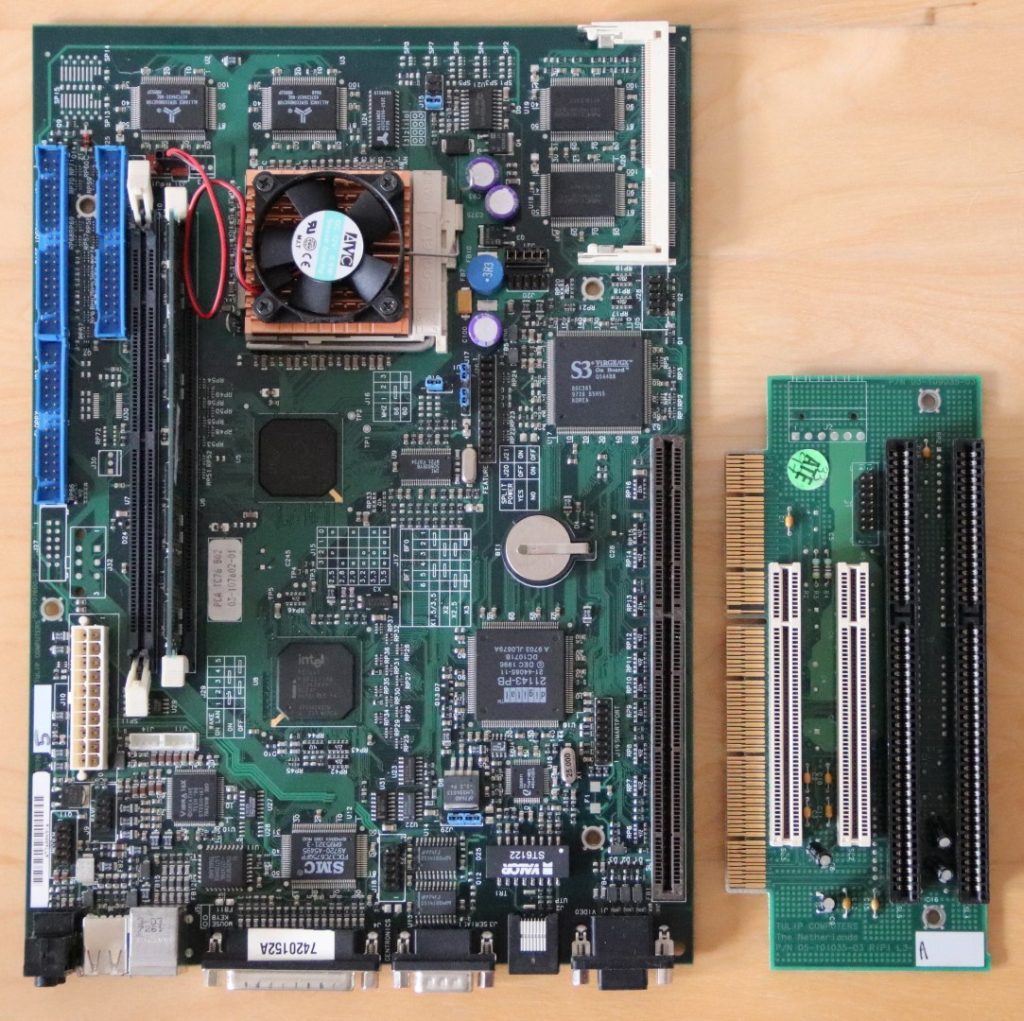 Building my Vision Line
My goal with this system is to use it as my main retro system for Windows 95 and DOS gaming. To achieve this, I made the following changes to the original system:
Replaced the TC48 mainboard with the TC76 from eBay
Installed a Pentium MMX 233 MHz
Upgraded RAM to 64MB
Upgraded Video Memory to 4MB
Installed a HDD, obviously. Currently IBM 20 GB, which exceeds the BIOS limit of 7.9GB, but works OK
Installed an optical drive, currently some early 2000s DVD drive that I had at hand and that had a matching color, will be replaced with something more period correct later
Installed a 3Dfx Voodoo 1 4MB
Installed a Terratec Maestro 32/96 sound card
Updated the BIOS to the latest revision that I was able to find (thanks to archive.org)
Replaced the floppy drive that was working nicely with the TC48 but refused to work with the TC76
Upgrade Considerations and To-Dos
It still has one free slot (combined PCI/ISA) left, so I might add an MPEG decoder card, SCSI controller or IDE controller later. Not decided yet.
Maybe replace the Voodoo 1 with a Creative Voodoo Banshee PCI, which is not 100% period correct and would probably not be saturated by the CPU, but I have it at hand and it would ensure there are no limitations GPU-wise.
Replace the HDD with the 8GB IDE DOM that is currently in use in my other, Tyan-based Socket 7 430TX build
Replace CPU and power supply fans with modern low-noise alternatives
Obviously get rid of that DVD drive. I have a 1997 (and therefore period correct) Creative DVD drive too, but it's yellowed quite badly so it wouldn't match the color of the front bezel.
The OS of choice is obviously Windows 95 OSR 2.5, nothing special. It turned out to be a bit tricky to find the drivers for the ethernet controller and the 430TX power management controller, though.
Current Issues
The onboard sound chip (Vibra 16X) is not detected at all. There are no options to enable or disable it in the BIOS. Maybe a jumper that I have not found yet, but I doubt it.
Upon warm reboot, the system refuses to start. Screen stays black, does not POST. No idea why.
Bottomline: This is a fairly compact but very capable little machine that brings back lots of good memories and will definitely stay in my collection.
Image Gallery